June 2020
Register today to join us for the virtual Feed A Family 5K!
This collaboration between Rutgers Cooperative Extension's Department of Family and Community Health Sciences and RAH will benefit food insecure families throughout the state.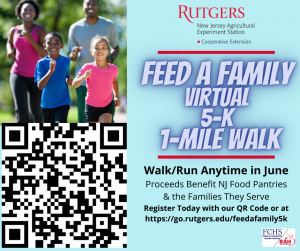 Visit the market for fresh fruits and vegetables from New Jersey farmers, and receive double the value (up to $10 per day) of SNAP, WIC, and Senior Farmers Market Nutrition Program vouchers!