Main Content
Families across New Jersey need your help.
You can lend a hand to those struggling to afford food in New Jersey by participating in our universitywide food drive, making a monetary donation, or volunteering your time at a local food pantry or soup kitchen.
Donate Money
Please also consider making a monetary donation. Your financial contribution will go directly to organizations delivering food and other services to those in need.
Make a donation by mail.
Checks should be made payable to Rutgers Against Hunger and sent to the following address: 

Rutgers Against Hunger

Rutgers, The State University of New Jersey
88 Lipman Dr.
New Brunswick, NJ 08901-0525
Donate Food
At this time, RAH is not collecting food. However, we invite you to visit our list of NJ food pantries near you.
By donating canned goods and other nonperishable foods, you can help children, families, seniors, and other New Jersey residents struggling to cope with an economy in crisis and rising food prices.
Donate Time
You can also make a difference in the lives of those suffering from hunger by volunteering your time. Whether you are interested in tutoring children about nutrition, providing information technology services to a food bank, or stocking shelves at a food pantry, your complimentary services will go a long way!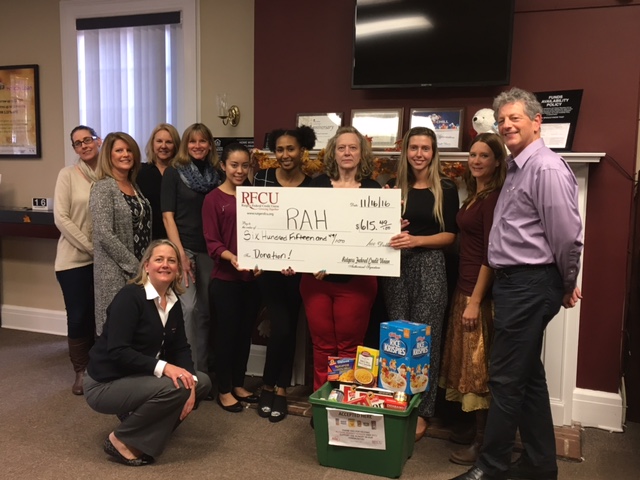 Thank you Rutgers Federal Credit Union for your continued support! For the 3rd year in a row, RFCU hosted a Food and Fund Drive to benefit Rutgers Against Hunger. They matched donations collected at all four branches during the month of October, which added up to a very generous contribution (plus a few bins of food!). We're so grateful to have friends like those within RFCU.
Like Us On Facebook
If you would like to learn more about upcoming food donation opportunities, like us Facebook: https://www.facebook.com/RAHRutgers/